Registration information
There is no registration fee, but registration is mandatory for all participants and presenters.
This will be an in-person meeting for all presenters and invited speakers. A virtual option will be available for other participants who are not able to attend in person.

Important dates
May 1: Deadline for abstract submission
Mid-June: Authors of selected abstracts notified by email
September 29: Fenwick Institute Pediatric Health Equity Policy Research Symposium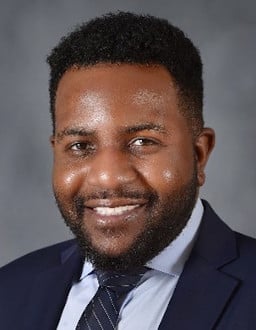 Robert O. Roswell, MD, FASCP, FACC
Associate Dean for Diversity, Equity & Inclusion, Professor of Cardiology & Science Education, Zucker School of Medicine at Hofstra/Northwell

Co-Chair, Critical Care Cardiology Section, American College of Cardiology
Secretary, Board of Directors, American Board of Internal Medicine
Co-Director, Cardiac ICU, Lenox Hill Hospital
Robert O. Roswell, MD, FACP, FACC, is a leader in advancing diversity, equity, and inclusion in medicine. His work includes influential studies and presentations on the impact of implicit bias on disparities in health care access, delivery, and outcomes. As associate dean for Diversity, Equity, and Inclusion and Professor of Cardiology and Science Education at the Zucker School of Medicine at Hofstra/Northwell, he oversees recruitment initiatives, pipeline programs, and innovative and enhanced medical curricula to build towards health equity and inclusion.

Dr. Roswell received his Healthcare Executive Diversity and Inclusion Certificate from the Association of American Medical Colleges. He serves as an officer to the board of directors of the American Board of Internal Medicine and chairs its Committee on Diversity, Equity, and Inclusion. He is the inaugural co-chair of the Critical Care Cardiology member section of the American College of Cardiology and is a member of that organization's Board of Trustee Health Equity Taskforce.
As a co-director of the Cardiac Intensive Care Unit at Lenox Hill Hospital, Northwell Health, in New York City, he is devoted to providing high-quality, acute cardiac care to patients with cultural humility. Dr. Roswell's educational and clinical areas of focus are cardiac arrest, cardiogenic shock, and acute cardiovascular care.